Film The Best Skating Moments with the Best Cameras for Filming Skateboarding
Skateboarding is a lot of fun, to be honest. The best thing about it is that even when you are not good at it, it is something that would enjoy looking at and that is what makes it so good. However, you know what is even more fun? Filming skateboarding – because when you are in the process of doing it, you are getting a lot of action captured in first person perspective.
But what exactly should you be using for filming skateboarding? That is one question that most people are going to be asking time and again, and honestly, the more you are careful about this, the better. This brings us to the question of what the best camera for filming skateboarding is.
Best Cameras for Filming Skateboarding
With a plethora of options available for you to check, things can be confusing, and right now, we are going to explore all the options there are in the market. The best camera that I can suggest to you right away is the GoPro Hero 8 as it caters to almost all the needs that you could have from a good action camera.
GoPro cameras generally do not need an introduction because we have been seeing them for as long as we can remember. Thanks to Casey Neistat and a whole heap of other vloggers and YouTubers who made these cameras famous. They are not just famous, however. These cameras are good for what they are made for.
With that said, I am looking at the GoPro Hero 8 Black, one of the best cameras that are available in the market, and for all the reasons, as well. If you want the best cameras for skateboarding that work really well in almost every situation, this is the one that you should be getting your hands on as the performance it delivers is excellent in every case, and well, it is better that you pay attention to this.
This the best skateboarding camera offers 4K stabilized footage that goes up to 60 frames per second. Additionally, you are also getting something that has a rugged and waterproof design so if you are worried that your camera might malfunction.
The LCD is sharp and bright enough and has full-touch functionality, which is always helpful. You are also getting access to an integrated mount, which helps a lot because you do not have to rely on third-party accessories, and that is a lifesaver for most of us.
GoPro has worked a lot on improving the user interface which makes everything super easy and useful to a point that you are not really going to run into any dire issues that might ruin the experience.
The camera also features USB Type-C charging, a companion app that has automated editing, and the mod expansion system is fun to access.
However, with so many amazing aspects of this best camera to film skateboarding, there are a few downsides that I would like to address before you buy it. For starters, the Wi-Fi video transfer is slow in some cases, and the memory card slot is awkwardly placed, as well.
Overall, I would say that when you compare the good and bad aspects of the GoPro Hero 8 Black, you quickly realize that the differences are minor and your experience with the best video camera for skateboarding is not going to be affected in any way.
Check Latest Price for GoPro Hero 8 Black
Canon has some excellent lenses and cameras, we are all aware of that. However, a lot of the time, people forget about their lesser-known cameras, as well. The thing with filming skateboarding is that there are times when you have to figure out what you are looking to achieve. If you want to film it from a first-person perspective, you are going to need a good camcorder that can film everything you want.
The Canon VIXIA HF R800 is just that camera as it delivers great performance overall, and the best part is that it makes up for a solid camcorder whenever you are trying to film something. For starters, you are getting access to the best camera for recording skateboarding that has great overall video quality to the point that you will not have any issues with the overall performance.
The camera comes with an HD CMOS image sensor that performs really well and will not let anyone down. If performance is one of your concerns with this camera, there really is nothing to worry about.
You are also getting access to SuperRange image stabilization which I believe is one of the best things about this camera whenever you are recording footage handheld, you need something that is stabilized so you can take proper videos without any shake in them.
Honestly, after using this camera for some time, I realized that there is not a lot to dislike. Sure, the camera does lack some of the advanced features but aside from that, it actually is a really good package that delivers great performance.
For anyone searching for an affordable camcorder that gets most of the work done and does not cost a lot of money, either. The Canon VIXIA HF R800 is a great offering that you can buy and you will not be disappointed by the performance of this camera.
Check Latest Price for Canon VIXIA HF R800
Panasonic has made some excellent cameras and we cannot really deny that, to be honest. For the longest time, the company has been making some excellent cameras and continues to do so. Granted, at the moment, Panasonic is better known for its Lumix lineup for cameras, but that does not change the fact that the company does have some really impressive cameras in the market that are outside their flagship series.
For now, we are going to be looking into the Panasonic HC-V770, a great camera that is not just good for skateboarding but also does not cost a lot of money. If you want something that offers good performance without costing you a lot of money, this is the camera that you should be paying attention to because the performance alone is worth it.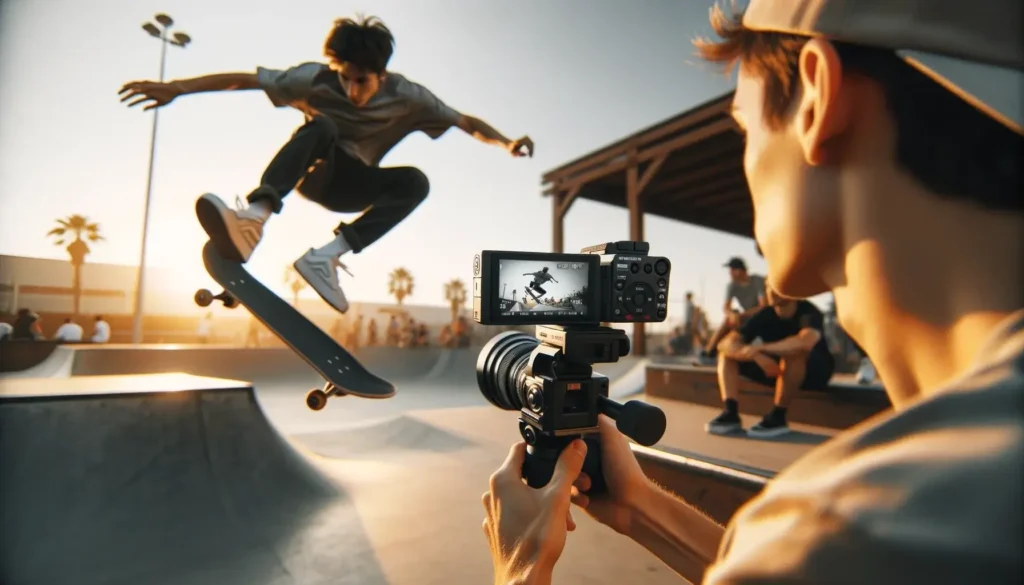 Speaking of that, the camera does deliver excellent value for money, and you are not going to be let down by how well it works. If you want something that is a solid performer, the camera is an excellent purchase.
You are also getting comprehensive manual settings which took me by surprise because I had an impression that this is a basic camera that we are looking at but that is not at all the case as you are getting a solid overall performance and It is impressive, to say the least.
The Wi-Fi connectivity is also a plus point here because you are not going to be limited to only wired connections.
I do have some gripes with this camera, however. For starters, Panasonic has not given any lens ring here, and the sensor is on the smaller side, too. Which might be a point of contention for some people.
Regardless of everything, it is important to understand that you are still looking at a camera that delivers good performance on several fronts and if you want to get your hands on something that is affordable and delivers good performance, the Panasonic HC-V770 is a great camera that you can buy and you will be all good.
Check Latest Price for Panasonic HC-V770
We are slowly heading towards the end of the list and there are still a few good cameras to look at but the one that I am about to explore right now caught my attention the most. Yes, definitely in a good way because this time around, we are looking at an inherently different camera but in a good way.
The reason why I am calling this a different camera is that it is made in a cylindrical shape, something that is not as common at all when you are talking about cameras, let alone action cameras. However, the Replay XD 1080 is actually really good for a number of reasons, especially in terms of performance.
For starters, this is the best action camera for skateboarding offers something SnapTray system and has a HeimLock mount as well, making it super convenient to use, and you will rarely run into any issues as far as the overall performance is concerned. The camera also has one of the smallest and lightest form factors, allowing for easier operations in almost all conditions.
You are also looking at the overall accessibility of this camera, wherein, this camera can be used with ease and without any complications at all. The sharp and tactile power and record buttons are a blessing because they make the overall operability of this camera so much better.
The camera also brings vibration feedback for both power and recording, adding to the list of things about this camera that I absolutely love.
Not to forget, the entire kit comes with everything that you are going to need to get started, which makes up for the wonderful experience of using the camera.
While I did enjoy my time with this camera, that is not to say that this the best camera for skate filming is entirely faultless as there are some downsides that I will mention here. For starters, the battery life is poor at best and you are only getting a 5-megapixel sensor. The battery is not user-replaceable, which can be an issue for many people.
Overall, I would say that the Replay XD 100 is one of the more affordable offerings in the market, and while it does not deliver on all fronts, that does not mean that you are not getting a good experience out of it.
Check Latest Price for Replay XD 1080
I am finally done with the list and just when I thought that I was not going to be surprised, something proved me wrong and I had to rethink everything all over again. The thing with action cameras was that they were always expensive, and simply out of reach for a lot of people, to be honest.
However, we started seeing this trend of affordable action cameras and while I did have doubts about it, the Akaso Brave 7 came to me and took care of my doubts and honestly, for what it is worth, this is an impressive camera that does not cost a lot of money but does pack enough punch.
Now, before we begin. I have to tell you that this camera was not intended to compete with GoPro at all; there is a significant price and spec difference but that does not mean that you are not getting a good package.
For starters, you are getting one of the most affordable action cameras that is also easy to use. Normally, with entry-level cameras or equipment in general, you are always limited by one thing or another but that is not at all the case here.
You are also getting a remote control and the camera itself supports voice control, which just goes to show that the overall experience is much better and responsive here, so you do have something to look forward to in terms of the performance.
The thing that surprised me the most was the fact that you are getting up to 4K 30 FPS video recording with this camera, which is impressive, to say the least, and will not let you down.
While I was genuinely excited to test the camera, I did run into a few issues. Thankfully, those issues never really take away from the fact that you are still getting a good camera. For starters, the touch screen is not as responsive as some would have hoped. The image stabilization is not that good, and the battery life is on the shorter side.
Overall, the Akaso Brave 7 is a rather surprising hit, to be honest. I was not expecting the camera to deliver such a good performance but not only does it deliver, it does so beautifully, and you are getting an excellent camera through and through that will not let anyone down.
Check Latest Price for Akaso Brave 7
Frequently Asked Questions
Conclusion
Filming skateboarding is generally something that happens from two perspectives; you get the first-person perspective wherein the skater mounts the camera on their head and skates around and you get a 3rd person perspective where the camera is held by someone else or is placed somewhere to record the action.
Whatever the case might be with you, the roundup covers both camcorders and action cameras so you do not feel like you need to go somewhere else to get things sorted. With that said, these cameras cater to all skaters, and even if you are on a low budget, you are still going to get some really good options to go with.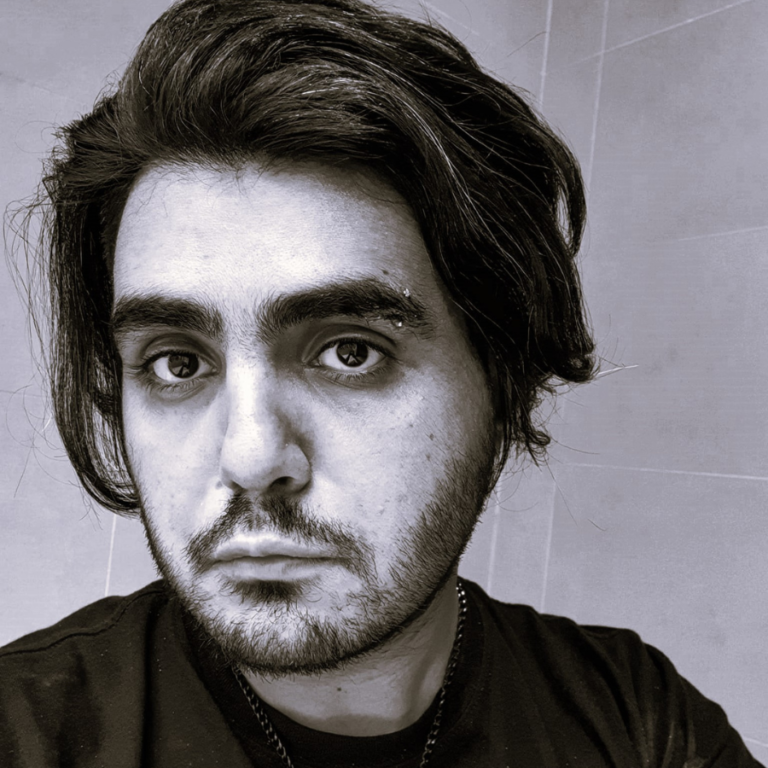 Furqan Shahid
Hi! I'm Furqan Shahid, founder of SnapDirector. With a decade of experience capturing countless moments, I'm here to guide you on your photography journey and save you from gear pitfalls!