How to Tell if a Sigma Lens is Full Frame – An Easy Guide for Everyone
Sigma lenses are among the most popular lenses in the market, the company has been making some amazing lenses for as long as we can remember, and more often than not, I prefer using a Sigma lens instead of going for a 1st party lens from the likes of Canon, Nikon, and Sony. Just take the legendary and ubiquitous Sigma 18-35mm f/1.8; a zoom lens but with a constant aperture of f/1.8.
This is perhaps the most popular Sigma lens that we have managed to review and more importantly, this lens has been featured so many times on so many different platforms. However, the only downside about this lens is that it is made for crop-sensor cameras.
But how to tell if a Sigma lens is a full frame sensor or crop sensor? This is a question that comes our way all the time and you would be surprised to know that the answer is not at all complicated. Quite the opposite, to be honest. Still, for those confused, we are going to take a look at everything you need to know to successfully distinguish between a full-frame and a crop sensor Sigma lens.
How to Tell if Sigma Lenses are Full Frame?
Okay, so the first thing that we are going to get out of the way is you being able to tell whether the lens you are looking at is full frame or not. Now, this does cause a lot of confusion and commotion among people. Now, the process is fairly simple and straightforward to understand.
Role of the 'DG' Symbol
All the Sigma lenses in the market that have "DG" on them are full-frame lenses. However, it is worth noting that just because they are full frame does not mean that they will not work on APS-C cameras. You can go ahead and use them on APS-C cameras as long as you are aware of the crop factor involved in the process.
So, what you have to do in order to tell if a Sigma lens is full frame or not is just look for the DG symbol on the box and you are good to go. Normally, this is mentioned next to the model number of the lens that you are talking about. For instance, Sigma 24-70mm f/2.8 DG DN Art Lens is a full frame lens.
But a lot of people are going to be wondering what the DN means, well, the DN here means that the lens is specifically and exclusively designed for mirrorless camera systems and not DSLR camera systems.
Some more common full-frame lenses by Sigma include the following.
14-24mm F2.8 DG DN | Art
24-70mm F2.8 DG DN | Art
35mm F1.2 DG DN | Art
45mm F2.8 DG DN | Art
85mm F1.4 DG DN | Art
105mm F2.8 DG DN Macro | Art
100-400mm DG DN OS | Contemporary
Are Sigma DG Lenses Full Frame?
A common question that has been around for some time is people asking us about whether or not Sigma DG lenses are full frames. Truth be told, they actually are full frames and have been full frames since the beginning.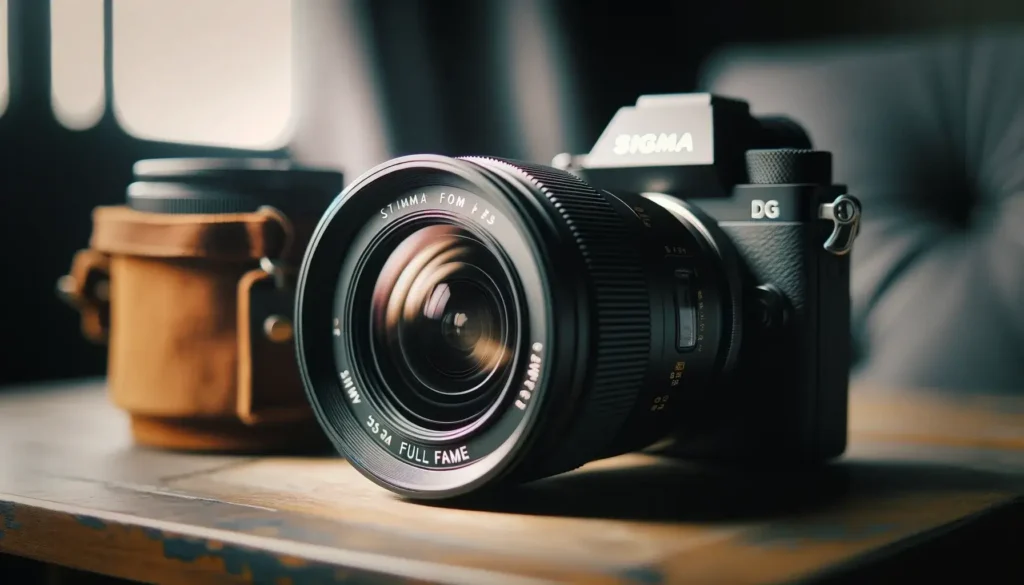 Sigma has been making lenses for not just mirrorless cameras but also for DSLRs and while the latter is not as popular as they used to be, it still is important to distinguish between both because otherwise, you might not be able to get the information you want.
With that out of the way, yes, the DG lenses by Sigma are indeed full-frame and commonly available in the market, too. So, if you have been willing to use that, this is some useful information that you can use.
So, the next time you find yourself wondering which Sigma lenses are full frame, you just have to look for "DG" in the lens model number or the box and that should answer your questions.
How to Figure Out if a Sigma Lens is a Crop Sensor? 
Now that we do know that Sigma makes full-frame lenses but this also brings us to the fact that the company is also known for making some amazing crop-sensor lenses and they have been around for the longest time.
Sadly, the naming scheme is still confusing for a lot of people when you are talking about Sigma lenses. Well, you have to look for the DC symbol when buying a lens for a crop camera. The DC means that the lens is made for crop sensor cameras and although you can use the lens on a full-frame camera, you will have to do so with the crop mode.
Is Sigma Full Frame Lens Worth It?
It should not be a surprise to anyone that all Sigma lenses are excellent and have been for the longest time. However, what one must always understand is that if you are heading into the market to get yourself a Sigma lens, you have to get the latest, better offering than going for something that is old and not as good as it used to be.
If you are still struggling to understand why Sigma lenses are great, then here is what we are going to tell you all the reasons why you should buy Sigma lenses. So, let's not waste time and get started.
A Great Variety to Choose From:
One of the best things about Sigma that I love is that the company offers an excellent variety of lenses to choose from. To a point that you can buy pretty much any lens for any use-case that you might have and you will be all sorted. Want a good and sharp prime lens? Sigma has you covered. Want incredible zoom lenses? Do not worry. 
Affordable:
Now this is surely going to be a surprise for a lot of people but when you are looking at Sigma lenses, you are looking at some of the most affordable offerings in the market. Especially when you compare the lenses with the first-party lenses from the likes of Canon, Nikon, and Sony. So, if you have been looking for something that is affordable, you have Sigma.
No Compromise on Quality:
When I use the term "affordable," many people may have wondered if it also means that the quality of these lenses is not good enough. However, I am more than happy to let you know that this is not the case. The Sigma lenses are among the finest in terms of quality, especially the modern lenses that are adorned with amazing build quality through and through. If you have been looking for something that is going to stand the test of time, a good Sigma lens is always the way to go.
Excellent Image Quality and Sharpness:
Image quality and sharpness are two of the things that everyone wants in a good lens; and who knows it better than Sigma? The company has been making tack-sharp lenses for the longest time and has really perfected the formula. Their Art series of lenses are excellent in every single way and produce great results.
Wide Compatibility:
Last but not least, another great thing about Sigma lenses is that they offer wide compatibility. Regardless of the camera you have, you will be able to do just fine with a Sigma lens. It is true that in some cases, you might need to find a lens adapter, but those lens adapters will not take away the native functionality of the lens, so you will be just fine.
Frequently Asked Questions
Conclusion
The conclusion here is that if you have been looking for a good Sigma lens, you do not have to look far because there are far more options available in the market than you might know. Thankfully, almost all of them are excellent and if you do want some performance out of a Sigma lens, you really do not have to worry as much.
The point here is that Sigma lenses are excellent and you would be more than satisfied by getting one in your hands.
Gary Sindell
Hey, I'm Gary Sindell from beautiful Vancouver. A passionate photographer turned 'Lens Guru', I'll help you discover the power of the right lens and elevate your photography game.